Strategic Investing

Portfolio Results

2015
2016
2017
YTD
Aggressive
+ 14.8%
+ 1.6%
+3.7%
Conservative
+ 17.4%
+ 16.3%
+1.0%
Precious Metals

+17.7%

+ 39.9%
+2.0%
SI Watch List
20.4%
+1.9%
8-Day Up
1.9%
+3.5%
8-Day-Down
-0.4%
-0.0%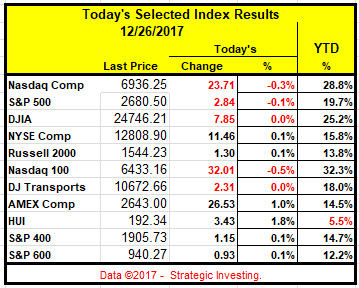 These values are presented as a courtesy to our users. We make no warranty as to
the accuracy of these numbers. Our Disclaimer and Terms and Conditions apply
when using our website.
Market Musings™
Monday, 3-27-2017
Looking for direction?...
Investors were trying to determine whether the Trump rally is over and what mighjt be the fate of the Trump agenda.
After a decline at the open following weakness overseas, the indices did manage to recover and ended mixed today.
The Portfolios and the Stock Watch List have been updated for Monday.