Strategic Investing

Portfolio Results

Portfolio
2014
2015
2016
YTD
Aggressive
+ 16.4%
+ 14.8%
+1.7%
Conservative
+ 13.0%
+ 17.4%
+6.3%
Precious Metals

+8.1%

+ 17.7%
+35.6%
SI Watch List
+25.7%
8-Day Up
+9.7%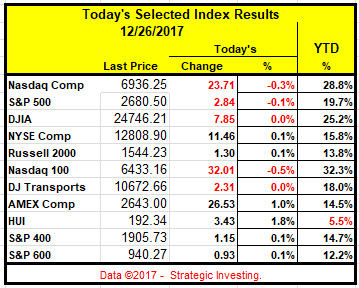 These values are presented as a courtesy to our users. We make no warranty as to
the accuracy of these numbers. Our Disclaimer and Terms and Conditions apply
when using our website.
Market Musings™
Thursday, 12-08-2016
Ho-hum .. new record highs! ..
The NASDAQ joined the new record high club today as traders smelled 20,000 on the DJIA just ahead.
Stocks continued to post gains with the DJIA rising 0.3% to a new record at 19,614. The dollar index, benefiting from a post-ECB drop in the euro, ended 0.9% higher to 101.09.
Oil, back near $51, recovered yesterday's loss with a $1 gain as Gold ended steady near $1,170.
The Portfolios and Stock Watch List have been updated for Thursday.