Strategic Investing

Portfolio Results

Portfolio
2014
2015
2016
YTD
Aggressive
+ 16.4%
+ 14.8%
+2.4%
Conservative
+ 13.0%
+ 17.4%
+10.2%
Precious Metals

+8.1%

+ 17.7%
+34.5%
SI Watch List
+10.0%
8-Day Up
+1.0%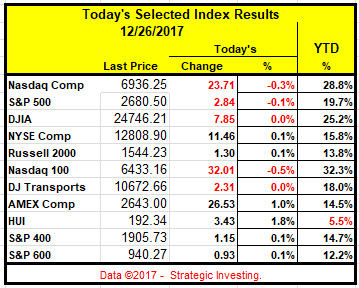 These values are presented as a courtesy to our users. We make no warranty as to
the accuracy of these numbers. Our Disclaimer and Terms and Conditions apply
when using our website.
Market Musings™
Monday, 8-29-2016
Month-end markup? ...
The indices gapped higher at the open and then drifted lower in the final two hours of trading. Still the indices managed to stay positive most of the day albeit on lower volume.
The Portfolios and Stock Watch List have been updated for Friday.